Vexus Boats is a manufacturer of fiberglass and aluminum fishing boats made in Flippin, Arkansas. They specialize in bass boats and center consoles, and matched boat trailers.
Vexus boats are relatively new in the market, and as with any new design, you can expect imperfections.
Some of the most common problems with Vexus include:
Weld cracks
Paint job defects
Leaking fuel tanks
Deck popping up
We've researched most of the issues with Vexus Boats and take a closer look at them in this article.
Let's get started!
1. Cracks in aluminum welds
Cracks on an aluminum boat can be a serious problem and they are not easy to fix.
Unfortunately, some owners of Vexus boats had to experience it first hand:
"After a less than stellar start to the handling of the first cracked hull, I got my new boat back in Oct. 2019. Now after only 9 months there is another crack in the hull on the port side. It is in the seam where the hull starts to rise upward […]"
[Source]
It's important to understand that welds are made by people and people make mistakes. Especially in such a new aluminum boat as Vexus.
What probably matters more here is how the manufacturer deals with the problem.
Vexus offers the following warranty terms for the first retail purchaser:
lifetime warranty for external structural hull welds
5-year warranty for structural hull components (stringers, ribs, bulkheads and transom)
Our research confirms the company stands behind their product and they will replace the boat under warranty.
2. Leaking fuel tanks
Another serious issue was with Vexus AVX models recalled because of potential fuel leaks.
Of course, not all the boats had this problem. Probably just a handful did.
It is good to know that Vexus Boats was proactive and decided to inspect and fix all the affected boats.
This involved replacing the fuel line to the gas cap and adding extra rubber padding.
3. Defective paint jobs
Some Vexus boat owners complained about inconsistent paint job on their hull.
Sometimes the problem would be more serious with the paint peeling off after just 1 month of owning the boat:
"Paint was peeling off of the bottom. Not just scratching but peeling. Only A month old. Took it back to dealer and they sent it back to Arkansas I figured they were going to strip it and repair but they replaced the hull. So like I stated above. If they see where it was a defect from factory they stand behind it. IMO."
[Source]
The paint flaking off was most likely caused by contaminated aluminum before painting.
Fortunately, if the paint job is clearly a factory defect, Vexus Boats will replace the hull under warranty.
4. Deck popping up
This problem concerns Vexus aluminum boats, especially AVX 1980 and luckily it's quite easy to fix.
What happens is that sometimes the deck can be bulging and when you step on it, it pops down, as in this example:
"The main problem is that the deck of my bow between the trolling motor foot pedal and the seat post hole is sort of bulging and when I step on it, it pops down like the lid of an oil can… or kind of like a metal jar lid after you break the vacuum.[…]"
[Source]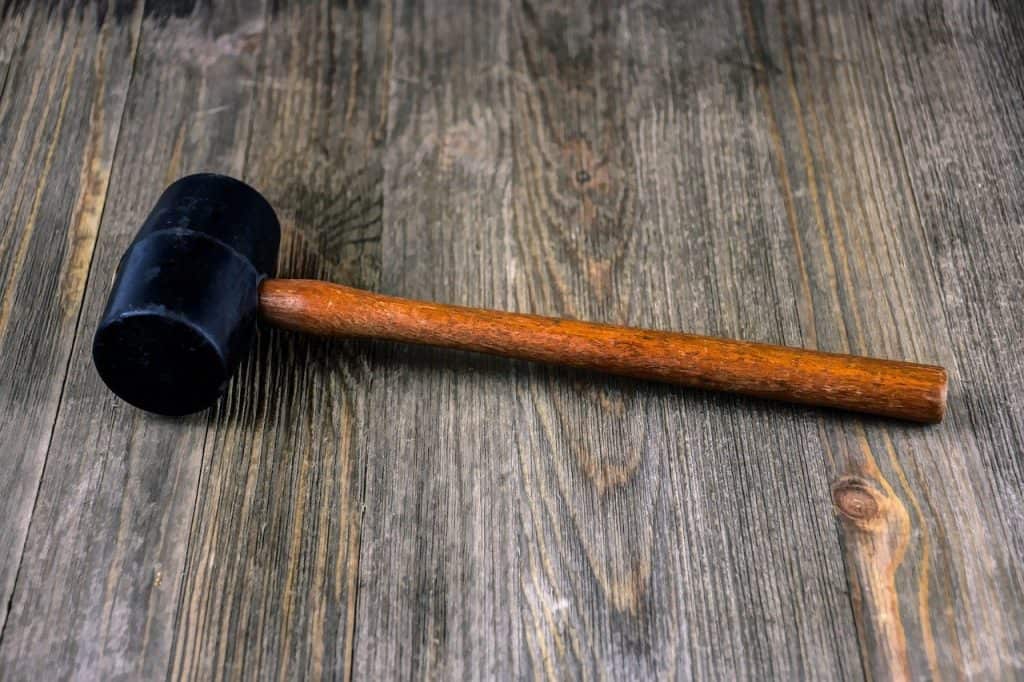 Vexus is aware of the problem, which is quite characteristic of metal boats. They are keen on offering advice on how to fix the problem:
"The fix was to brace the bubble down (I used the butt of another hammer so as to not whack my finger) then give it a firm tap with a rubber mallet. Before, I tried to just whack it without pressing it down. I didn't think it was going to work BUT IT DID! I'm a happy camper! […]"
[Source]
5. Water entering bow switch
The issue happens with Vexus boats that have been through a lot of water, for example, rain.
The water can get into the bow trim switch, which can cause the motor to start trimming on its own:
"Have a new 2018 Z19 and was fishing in rain this past Tuesday. Rained steady all day and after several hours motor trimmed down on its own and trim motor kept running. I quickly tried pushing all trim buttons and no success. […]"
[Source]
If you're getting the same problem, you will need to replace the bow switch with a newer version, as the old ones are not entirely water-resistant.
6. Difficult to keep keel guards fixed
It's difficult to protect your aluminum keel on a Vexus boat, as most available keel guards don't stay fixed.
This makes launching tricky at some places, for example, rocky shores. Without keel guards, it's very easy to scratch up the paint.
One of the most recommended keel guards for aluminum boats is KeelShield from Gator Guards:
7. No tackle dividers in compartments
Vexus boats have a good layout and there is plenty of storage.
However, one thing that is missing is to have tackle dividers in back, side or center compartments.
Not a deal-breaker for most of you, but it would make an angler's a little bit easier.
8. Excessive condensation
Condensation can form anywhere, but it's mostly concentrated on the lids of storage boxes.
It's not a problem unique to Vexus boats, but it's good to be aware of nevertheless to prevent any issues.
If you keep your boat in a garage, keep the storage boxes slightly open to allow ventilation.
9. Slippery at low speeds
This is more of a design issue, not necessarily a problem, although some of you will find it problematic.
Vexus AVX boats are great because they can get into skinny water.
However, the trade-off is that they are "slippery" in wind or current, especially at idle speeds.
This means that docking and loading them can be a little more time-consuming. They require more driving, which can get irritating.
Warranty & service
Vexus provides a very good warranty service.
Although many boats had different issues, they were mostly very helpful and fixed them.
If your boat has a serious problem, such as a cracked hull, your boat will need to travel to Flippin, Arkansas to get it repaired or hopefully replaced.
Of course, having to wait and not being able to go out fishing can be very frustrating.
Vexus Boat Owners Group
Vexus Facebook group is a great place to exchange information and look for ways to solve the problem with your bass boat.
It can be difficult to get a response from Vexus customer service, but the company is based in Flippin, Arkansas and they are very responsive to their Facebook group.
Conclusion
Overall, Vexus boats are good quality bass boats. However, like with any boat, there can be issues.
It's still a young boat builder and hopefully the problems get less frequent as time goes by and more boats are made and sold.
If you had a different problem with your Vexus boat, please get it touch!
Sources