Some people like to name their boats after loved ones, others after favorite places, and still others after things they love or hobbies they enjoy. Whether you're looking for a name for your fishing boat, your speedboat, or your sailboat, there's bound to be a perfect fit for you on our list.
And if it's not there, use our Boat Name Generator to find the ideal name for your boat.
Do you have a specific theme or word in mind? Use "Jump to Section" to find the interesting category faster:
Nature & weather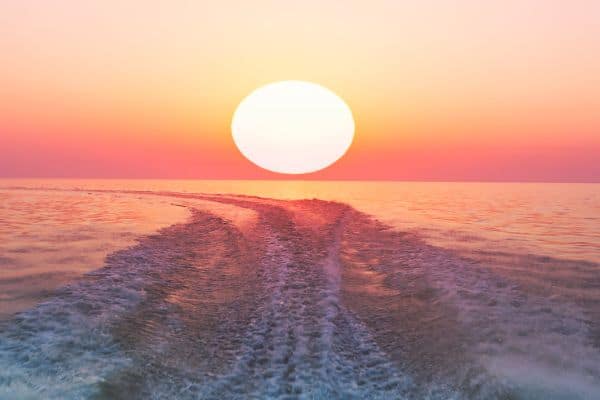 The nature and weather phenomenons have always been great sources of inspiration for boat names.
Here are some of our favorites:
Blue Moon – A beautiful name for a blue boat
Breeze – Perfect for a calm day out on the water
Sunshine – Bring some happiness to your day on the water
Tornado – The perfect name for a speedboat
Wave Dancer – A beautiful and graceful name for a sailboat
Boat names with "Crystal"
Crystal Clear
Blue Crystal
Bright Crystal
Crystal Lady
Crystal Bell
Crystal Bay
Boat names with "Dawn"
A New Dawn
Aloha Dawn
Amber Dawn
After Dawn
Blue Dawn
Break of Dawn
Chasin' Dawn
Crack of Dawn
Crystal Dawn
Dawn Treader
Lady Dawn
Misty Dawn
Til' Dawn
Boat names with "Emerald"
Emerald Dream
Emerald City
Emerald Mist
Emerald Rose
Emerald Sea
Emerald Star
Boat names with "Luna"
Bella Luna
Calluna
Cataluna
Dolce Luna
Flor d'Luna
La Luna
Luna Sea
Luna C
Luna Rossa
Boat names with "Moon"
Blue Moon
Endless Honeymoon
Full Moon
Half Moon
Lady Moon
Moon Beam
Moon Chaser
Moon Dance
Moondancer
Moon Glow
Moon Rise
Moon Quest
Moon River
Moon Shadow
Moonstone
Moonstruck
Moon Tide
New Moon
Risin Moon
Silver Moon
Shepherd Moon
Boat names with "Pearl"
August Pearl
Blue Pearl
Black Pearl
China Pearl
Conch Pearl
Desert Pearl
Diamonds & Pearls
Island Pearl
Lady Pearl
Little Pearl
Miss Pearl
Pearl River
Sea Pearl
Boat names with "Sand"
Moon Sand
Mr Sandman
Quick Sands
Sand Bar
Sand Castle
Sand Dollar
Sand Pebble
Sandpiper
Sand & Sea
Sandy
Boat names with "Sapphire"
Blue Sapphire
Sapphire Day
Sapphire Dream
Sapphire Lady
Sapphire Nights
Sapphire Sea
Sapphire Sky
Sapphire Tears
Star Sapphire
Boat names with "Shell"
Bag of Shells
Bombshell
C Shell
Half Shell
Miss Shell
Moon Shell
Nutshell
Sand Shell
Sea Shell
Shelly
Boat names with "Solar"
Asolare
Solar Coaster
Solar Express
Solara
Solaris
Solar Wind
Boat names with "Summer"
All Summer Long
Always Summer
Chasing Summer
Endless Summer
Forever Summer
Indian Summer
Knotty Summer
Last Summer
Summer Breeze
Summer Home
Summer Place
Summer Suite
Summer Wind
Boat names with "Sun"
Always Sunday
Always Sunny
August Sun
Avalon Sunset
Blue Sun
Chasing Sunsets
Chasing Sunshine
Follow the Sun
Fortunate Sun
Fun in the Sun
Fun n Sun
Good Day Sunshine
Hello Sunshine
Here Comes the Sunshine
Hurry Sundown
Island in the Sun
Island Sun
Lady Sunshine
Lazy Sunday
Lion in the Sun
Liquid Sunshine
Midnight Sun
Pacific Sunset
Sun Chaser
Sun Dance
Sundancer
Boat names with "Star"
All Star
Bay Star
Black Star
Blue Star
Bright Star
Counting Stars
Dark Star
Day Star
Desert Star
Dog Star
Emerald Star
Lone Star
Lucky Start
Morning Star
North Star
Sea Star
Shooting Star
Starbound
Stardust
Starship
Star Chaser
Star Gazer
Star of the Sea
Starwind
Wandering Star
Boat names with "Wind"
Fairwinds
Gone with the Wind
Gypsy Wind
Second Wind
Summer Wind
Trade Winds
West Wind
Windblown
Wind Catcher
Wind Chaser
Wind Dancer
Wind Quest
Wind Rose
Wind Seeker
Wind Song
Windswept
Wind Walker
Windward
Windy
Windy Spirit
Water & places
If you're looking for a boat name that invokes water bodies: the sea, ocean, lake, etc., look no further!
We've rounded up some of our favorite boat names in this category:
Boat names with "Aqua"
Aquaholic
Aquarius
Aquaphile
Aqua Angel
Aqua Bella
Aqua Blue
Aqua Boogie
Aqua Dance
Aqua Duck
Aqua Gem
Aqua Knot
Aqua Lung
Aqua Marine
Aqua Nut
Boat names with "Bay"
All Bay Long
Bay B
Bay Bee
Bay Belle
Bay Breeze
Bay Dancer
Bay Daze
Bay Dog
Bay Dream
Bay Dreamer
Bay Dreaming
Bay Girl
Bay Lady
Bay Tripper
Bay Wolf
Tequila Bay
Boat names with "Island"
Blue Island
Fantasy Island
Islander
Island Adventure
Island Attitude
Island Belle
Island Bound
Island Breeze
Island Buoy
Island Cat
Island Cruiser
Island Dancer
Island Daze
Island Dog
Island Dream
Island Drifter
Island Escape
Island Express
Island Fever
Island Girl
Island Rose
Island Time
Boat names with "Lake"
Better Lake Than Never
Cooler By The Lake
Great Lakes
Lady Of The Lake
Lake A Wish
Lake Affect
Lake Break
Lake Dancer
Lake Dog
Lake Effect
Lake Escape
Lake For Work
Lake Lady
Lake Life
Lake House
Lake Runner
On Lake Time
Boat names with "Ocean"
Blue Ocean
Comocean
Deep Devocean
Deevocean
Devocean
Emocean
Mother Ocean
Ocean Adventure
Ocean Bird
Ocean Blue
Ocean Breeze
Ocean Dancer
Ocean Dream
Ocean Drive
Ocean Escape
Ocean Eyes
Oceanis
Ocean Girl
Ocean Lady
Ocean Odyssey
Ocean Spirit
Ocean View
TransOceanic
Boat names with "River"
Black River
Lazy River
Moon River
North River
Pearl river
River Bee
River Breeze
River Cat
River Dance
River Fox
River Gal
River Girl
River Gypsy
River Hawk
River Lady
River Mist
River Of Dreams
River Queen
River Rat
River Rose
River Song
River Spirit
River Tales
River Wanderer
Boat names with "Sea"
Angel Of The Sea
Bella Sea
Beyond The Sea
Big Sea
Fantasea
Gypsea
Luna Sea
Sea Bear
Sea Bird
Sea Biscuit
Sea Breeze
Sea Dancer
Sea Dog
Sea Dreams
Seaduction
Sea Eagle
Sea Esta
Sea Gull
Sea Fox
Sea Hawk
Seahorse
Sea Lady
Sea Of Dreams
Sea Quest
Sea Scape
Sea Spirit
Sea Star
Seas The Day
Sea Wind
Sea Wolf
Sea Ya
Extasea
Vitamin Sea
Wait N Sea
Boat names with "Tide"
All Tide Up
Blue Tide
Changing Tides
Crimson Tide
Dark Tide
Ebb Tide
Even Tide
Fair Tide
Family Tides
Low Tide
High Tide
Knot Tide
Moon Tide
Morning Tide
Princess of Tides
Riptide
Spring Tide
Tide Song
Boat names with "Water"
Blue Water
Blue Water Bound
Blue Waters
Breakwater
Broadwater
Casual Water
Clear Water
Cool Water
Deep Water
Edge Water
Fire Water
Just Add Water
Shearwater
Water Lily
Watermark
Water Music
Whitewater
Boat names with "Wave"
A Wave From It All
Airwaves
Amber Waves
Big Wave
Blue Wave
Brainwaves
Breaking Waves
Catch A Wave
Dances With Waves
Dream Wave
Heat Wave
Light Wave
Makin Waves
New Wave
Wave Dancer
Wave Maker
Wave Walker
Wavelength
Nautical terms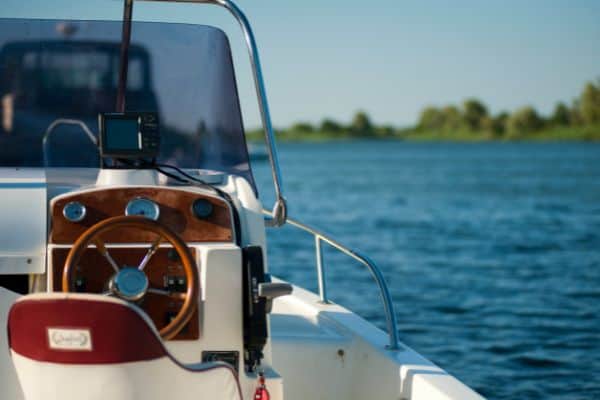 Boating and sailing terms are great ingredients of a catchy boat name. They can help set the tone of your vessel, whether it's playful or classy:
Here are some of our favorite boat name ideas with nautical terms:
Anchor Inn
Bigger Boat
Cabin Fever
Captain Chaos
Dream Boat
First Mate
Boat names with "Anchor"
Anchor Baby
Anchor Deep
Anchor Down
Anchor Inn
Anchor Management
Anchorman
Anchors Away
Golden Anchor
The Anchor Holds
Boat names with "Boat"
Aboat Time
Bass Boat
Bear Boat
Bigger Boat
Blue Boat
Boatacious
Boatname
Boatman
Boat Of Us
Das Boat
Dream Boat
My Boat
Boat names with "Buoy"
Atta Buoy
Bad Buoy
Beach Buoys
Bell Buoy
Big Buoys
Buoy Call
Buoy Toy
Buoyant
Buoys & Gulls
Clairbuoyant
Cowbuoy
Flambuoyant
Fly Buoy
Good Buoy
Island Buoy
Knotty Buoy
Lazy Buoy
Lucky Buoys
Naughty Buoy
Nauti Buoy
Nice Buoys
Playbuoy
Boat names with "Captain"
Captain Chaos
Captain Cook
Captain Crunch
Captain Hook
Captain Jack
Captain Morgan
Captain Nemo
Captain Ron
Captain's Choice
Captain's Dream
Boat names with "Keel"
Achilles Keel
Even Keel
Keel Basa
Keelin It
Keel-N-Time
Keel Over
Keel Shot
License To Keel
Over Keel
Reel Keel
Takeela
Ta-Keel-La
Time To Keel
Boat names with "Knot"
A Frayed Knot
Absolutely Knot
Aqua Knot
Better Knot
Celtic Knots
Dawn Knots
Deez Knots
Fear Knot
Forget Me Knot
Fraid Knot
Frayed Knot
Goin' Knots
Judge Knot
Juggerknot
Knot Bad
Knot A Chance
Knot A Clew
Knot Again
Knot Crazy
Knot For Sail
Knot Guilty
Knot Gulf'n
Knot Home
Knot So Easy
Knot So Fast
Knot Tide
Knotty Girl
Knotty Buoy
Moor Often Than Knot
Knot On Duty
Knot Yours
Why Knot
Wine Knot
Boat names with "Nauti"
A Lil Nauti
A Little Nauti
Aero Nautical
Big Nauti
Funautical
Feelin Nauti
Gettin Nauti
Hip Nautic
Hypnautic
Knot Reel Nauti
Knot Too Nauti
Let's Get Nauti
Lil Nauti
Nauti Boy
Nauti Buoy
Nauti Cat
Nauti Dog
Nauti Gal
Nauti Girl
Nauti Gull
Nauti Lady
Nautilus
Nauti Time
Boat names with "Salt"
Asalt Weapon
Got Salt?
Knot Salty
Lightly Salted
Old Salt
Old Salty
Reel Salty
Salt
Salty Cat
Salt Crystal
Salt Lick
Salt Life
Salty Dog
Salty Feet
Salt Shaker
Salt Spray
Boat names with "Ship"
Battleship
Companionship
Courtship
Crystal Ship
Dictatorship
Fellowship
Flagship
Friendship
Mothership
Partnership
Ship Happens
Starship
Colors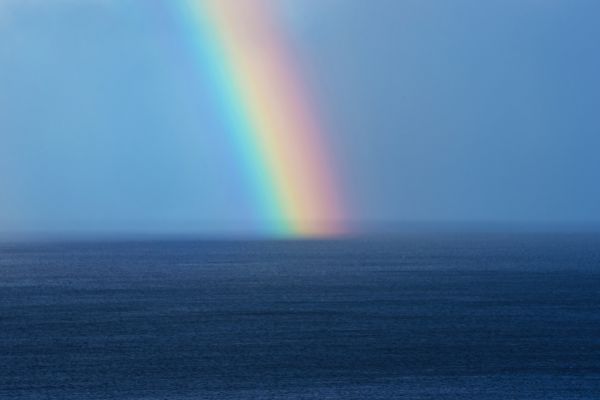 Boat names with colors in them are catchy and can be used to send a message about your vessel.
They can also just look and sound really cool, for example:
Big Blue
Black Pearl
Silver Lining
White Star
Boat names with "Black"
Back In Black
Black Arrow
Black & Blue
Black Bear
Black Beauty
Black Betty
Black Bird
Black Cat
Black Cloud
Black Diamond
Black Dog
Black Duck
Black Fin
Blackfish
Black Fish
Black Gold
Black Hawk
Black Jack
Black Knight
Black Magic
Black Pearl
Black Star
Boat names with "Blue"
Aqua Blue
Baby Blue
Bella Blue
Big Blue
Black & Blue
Blue
Blue Angel
Blue Bayou
Blue Bird
Blue Girl
Blue Heaven
Blue Horizon
Blue Lady
Blue Lagoon
Blue Magic
Blue Moon
Blue Note
Blue Shark
Blue Skies
Blue Sky
Blue Velvet
Blue Water
Blue Wave
Misty Blue
Moody Blues
True Blue
Boat names with "Red"
Red Baron
Red Dawn
Red Dog
Red Lady
Red October
Red Rover
Red Sky
Boat names with "Silver"
Quicksilver
Silver Cloud
Silver Eagle
Silver Lady
Silver Lining
Silver Linings
Silver Moon
Silver Swan
Boat names with "White"
White Bird
White Cap
White Dove
White Duck
White Horse
White Raven
White Star
White Swan
Boat names with "Yellow"
Yellow Bird
Yellowtail
Yellow Fever
Yellow Fin
Yellow Rose
Fishing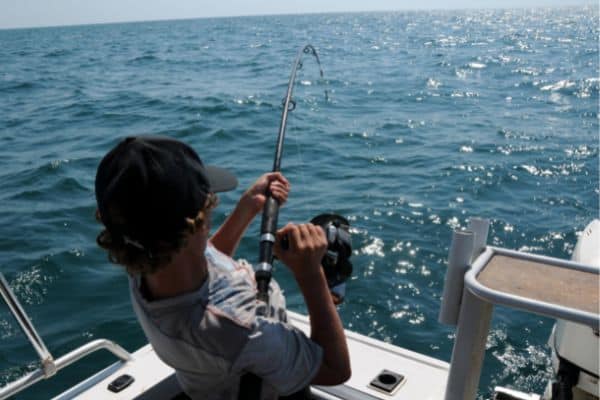 Fishing boat names often reflect the personality of the fisherman. It could be serious or funny, but it should definitely be memorable:
Angler's Dream
Big Fish
Cast Away
Fisherman's Friend
Hooked
Reel Men
Boat names with "Bass"
Bass Boat
Bass Buggy
Bass Tracker
Breaking Bass
C Bass
Gettin Bass
Haulin Bass
Kickin Bass
Kiss My Bass
Sea Bass
Boat names with "Fish"
Big Fish
Black Fish
Blue Fish
Fishaholic
Fish & Chicks
Fisherman's Friend
Fishful Thinkin'
Fish Tales
Fish Tank
Fishy Business
Flying Fish
Got Fish?
Kingfisher
Sail Fish
Swordfish
Boat names with "Hook"
Captain Hook
Happy Hooker
Hook Em
Hooked On You
Hooked Up
Hot Reels
Off The Hook
Playin Hooky
Right Hook
Skyhook
Boat names with "Reel"
Get Reel
Keepin' It Reel
Hell on Reels
Reel Busy
Reel Deal
Reel Fun
Reel Job
Reel Life
Reel Love
Reel Men
Reel Salty
Reel Success
Reel Therapy
Reel Time
Reel Wife
Reel Work
Unreel
Women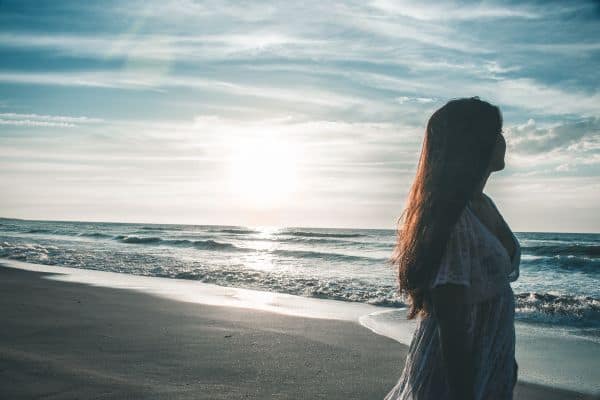 Women have been an inspiration for boat names since the beginning of time.
Here are some of our favorites boat name ideas reflecting its feminine beauty and character:
Boat names with "Bella"
Aqua Bella
Bella
Bella Donna
Bella Luna
Bella Vita
Blue Bella
Ciao Bella
Isabella
Marbella
Boat names with "Girl"
Blue Girl
Brown Eyed Girl
Dream Girl
Galway Girl
Island Girl
Knotty Girl
My Girl
Nauti Girl
Sky Girl
Summer Girl
Boat names with "Lady"
Blue Lady
Dream Lady
First Lady
Foxy Lady
Ladybug
Lady Sunshine
Lazy Lady
Lively Lady
Lucky Lady
My Lady
Nauti Lady
Pretty Lady
Shady Lady
Silver Lady
Sea Lady
Animals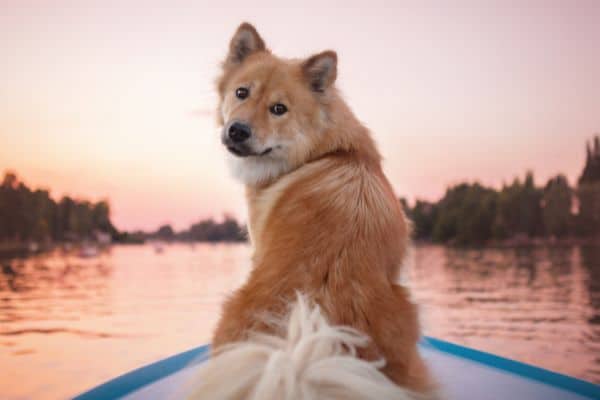 Cats and dogs are the most popular pets in the world, so it's no surprise that they often inspire boat names.
Whether you love them or not, these animals make great monikers for your vessel:
Boat names with "Cat"
Bob Cat
Cat's Paw
Cat Walk
Cat Woman
Fat Cat
Knotty Cat
Sun Cat
Stray Cat
Thunder Cat
Tom Cat
Top Cat
Wild Cat
Boat names with "Dog"
Big Dog
Black Dog
Dog House
Dog Star
Lake Dog
Lucky Dog
Nauti Dog
Red Dog
Salty Dog
Sea Dog
Sloop Dogg
Sun Dog
The Doghouse
Boat names with "Fox"
Flying Fox
Foxsea
Foxy
Foxy Lady
Gray Fox
Sea Fox
Silver Fox
Sun Fox
Winter Fox
Boat names with "Wolf"
Bay Wolf
Black Wolf
Blue Wolf
Blue Sea Wolf
Gray Wolf
Lone Wolf
Nauti Wolf
Sea Wolf
White Wolf
Alcohol
It's never a good idea to mix alcohol and being on the water, but that doesn't mean you can't enjoy a few good boat puns.
Here are some of our favorite alcohol-inspired boat names:
Absolut Paradise
Aquaholic
Comfortably Numb
On the Rocks
Sea Spirit
Shaken not Stirred
Sip & Dip
Tip-Sea
Boat names with "Beer"
Beer Hunter
Beer o' Clock
Beeracuda
Beer in Mind
Blood, Sweat and Beers
Dijabringabeeralong
Boat names with "Wine"
Wine Knot
Wine Down
Wine Cellar
Vintage Whine
Amy's Wine-House
Vintage Wine
Positive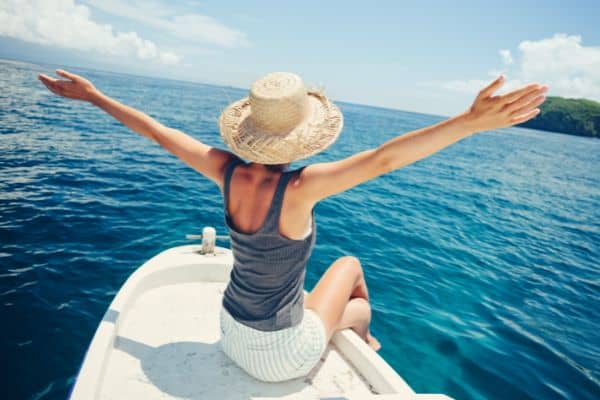 Below we list more boat name ideas containing such positive words as "dream," "free," and "happy."
If you want your boat name to reflect your joy of being on the water, consider one of these great options, for example:
Dream Catcher
Free Spirit
Happy Days
Summer Time
Boat names with "Dream"
Bay Dream
Dad's Dream
Day Dream
Dreamer
Dream Catcher
Dream Chaser
Dream Girl
Dream Hunter
Dream Weaver
Island Dream
Just Dreaming
Living The Dream
Pipe Dream
Sunset Dreams
Sweet Dreams
Wet Dreams
Boat names with "Free" or "Freedom"
Born Free
Free Bird
Freedom
Free Spirit
Wings Of Freedom
Boat names with "Happy"
Happy Days
Happy Hours
Happy Place
Happy Together
Holiday Happy
Boat names with "Love"
First Love
Love Life
One Love
Second Love
True Love
Boat names with "Time"
About Time
Island Time
It's About Time
High Time
Just In Time
Play Time
Quality Time
Prime Time
Reel Time
Summer Time
Time Off
Time Out
Time 2 Fish
Time To Keel
Funny boat names
The list below includes the funniest boat names we've come across.
Whether you want to make your friends laugh or strike fear into the heart of your enemies, one of these names is sure to do the trick.
Bad Company
Debt Finder
Docks Orders
Goin' Broke
Empty Pockets
Dawn Knots
Ship Happens
Unsinkable II
Breakin Wind
Pier Pressure
Fish & Chicks
Passing Wind
Fishfull Thinkin'
Clocked Out
Chicken Ship
Happy Hours
I Sheet You Knot
I Ship You Knot
Just Add Water
Kiss My Bass
Miss Behavior
Miss Conduct
Piece of Ship
Ship Faced
Tack Sea
Sea Nile
Seasick
Seaquel
She Got The House
Sick and Tide
Squid Pro Quo
The Codfather
A Loan At Sea
Bankrupt Sea
Nautorious
Reel Naughty
Are you looking for something a little more… risque? Then check out the list below.
These monikers are sure to turn heads (and maybe even raise a few eyebrows):
Big Knots
Full Of Seamen
In Her Course
Master Baiter
Nice Aft
Sun of the Beach
The Wet Dream
Conclusion
There you have it! 900+ great boat names for anyone and everyone.
We hope this list has inspired you to find the perfect name for your boat.
Happy sailing!